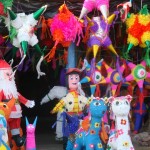 "But we have this treasure in jars of clay to show that this all-surpassing power is from God and not from us." (2 Corinthians 4:7)
I was driving down the road the other day when I saw pieces of a yellow Big Bird piñata scattered along the way. I thought that it was sad that it was all broken up and a mess. Then it dawned on me. If it was not broken, nobody would have been able to enjoy the contents, the candy!
I thought about this verse from 2 Corinthians. s were traditionally made by decorating a clay pot. And they hold treasure. They hold treasure that someone has put inside. The person that put it inside did not want it to stay there. They intended for it to be shared and enjoyed.
For the treasure to be enjoyed, the clay pot must first be broken. A whole piñata looks pretty but if it isn't broken to reveal the treasure then it hasn't fulfilled its purpose. A piñata is created to be destroyed. Only after the piñata is broken and the treasure is revealed does the crowd get excited.
We are clay pots, fragile and easily broken. We are all decorated differently and we work hard to keep looking good on the outside. Our natural inclination is to stay safe and whole, looking good to the world, but we must be willing to be broken. "The sacrifices of God are a broken spirit; a broken and contrite heart, O God, you will not despise" (Psalm 51:17).
God wants to reveal his glory through our lives. Unless we are willing for the old life to be destroyed, we will never fulfill our true purpose. The crowd will only ring out with joy and excitement if the treasure is revealed.
God fills us with good gifts. "May the God of hope fill you with all joy and peace as you trust in him, so that you may overflow with hope by the power of the Holy Spirit" (Romans 15:13). God fills us with hope, joy, and peace. The trials of life break away the facade we carefully built around our clay pot. Then, God breaks off the old papier-mâché and cracked clay pot. This allows the sweet treasure he has filled us with to pour forth and bless everyone around us. The good gifts of God can then be
shared and enjoyed.
Lord, it is painful to give up my pride in my own beauty and strength even though it is only papier-mâché and a clay pot. Brokenness is necessary. I want to reveal your hope, joy and peace to the world. This is the purpose to which You have called me. I will not reveal your goodness or grace if I keep your treasures hidden. Make me brave Lord. Give me the courage to accept the beatings that will break away the outer layers to reveal your hope, joy, and peace inside. Let the crowds ring out in joy and praise because You have poured forth blessings and gifts through me. Let me fulfill the purpose You have called me to, even when it is painful and hard. May all glory go to the one who gives the gifts, the host of the party, You Lord, and you alone.