"But God" is a series that encourages women to know and trust God. Once we see how trustworthy he is, we need to put aside our excuses for remaining distant and come to him, our loving father, seeking the closeness that he offers. These lessons are based on verses in Scripture that contain the phrase "but God".
  "Checking the Attitudes of our Hearts" is a study of right and wrong heart attitudes. This gives us the opportunity to change unhealthy attitudes before they affect our mind, emotions, body and soul and to build a healthy self by applying right attitudes. These lessons encourage us to focus our mind on what is good, pure and holy.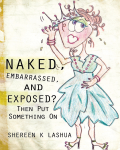 Naked, Embarrassed and Exposed? Then Put Something On, is based on Shereen's book of the same name. The lessons encourage us put on the attributes of Jesus so others see God's glory in us. Based on Colossians 3:12-17. You can order a copy of the book at Amazon through the link below.