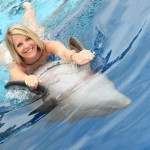 "In your relationships with one another, have the same mindset as Christ Jesus" Philippians 2:5
My daughter posted this beautiful picture on Facebook today. I was so jealous. She got to swim with the dolphins. I have always wanted to do that. I have had a fascination with dolphins for years. They are beautiful creatures that are highly intelligent. They are also friendly and interactive. Dolphins are social creatures that seem to enjoy playing together. I thought about all of this while lying in bed this morning dreaming of my chance to swim with them.
A grumbling spirit started to creep over me when the Lord revealed truth to me. I get to go to work today! Yes, at first that seems reason to encourage my grumbling spirit, but wait. I am going to be interacting with God's creation all day. Today, I get to hang out with people! I am blessed.
People are special creations of God. They are created in the image of God Himself. God breathed the breath of life into man and man became a living being. Then He created a unique counterpart for man, the woman. As evidenced in Genesis, God took exceptional care in creating human beings. They are important to Him. What a privilege, in light of this, that I get to hang out with people.
Ok, you still aren't convinced. Here is the best reason for being excited about playing with people. God is excited about people. He walked in the garden with Adam and Eve. He spoke with Abraham. He calls His children to reason together with Him. Jesus came to earth as a man so He could save people. Save them from what? Separation from Himself. Save them for what? Eternity with Him. God wants to hang out with people. The more we become like Him, the more our desires are His desires. That's why God's children should be excited about spending time with people.
People are beautiful. They are highly intelligent. Most are friendly and interactive. Humans are social creatures that seem to enjoy playing together. With the Lord's help, I can change my thinking and begin to dream of opportunities to hang out with people.
Holy God, There is no reason that you needed a relationship with us. You are complete in yourself. Because of this, I know that it is a choice, a choice born out of love that you interact with me. I am so thankful that you Lord have made provision through Jesus so that I am able to interact with you. I am also thankful that much of that interaction is play. I am allowed to enjoy and have fun in your presence. There are times when we have to do hard work, sometimes we have to endure discipline, but Lord I thank you for play time. Let me see the potential in each person. Give me insight into their world so that my interactions will be kind and caring and full of fun and joy. Today let me be excited that I have the privilege to hang out with people. Also, I would still like to swim with the dolphins.